This has been a wonderful, but busy weekend. My oldest turned 14 Friday, so we spent a day shopping at the mall yesterday. Today, we had birthday dinner with family. She is growing up too fast.
After everyone left, I sat down to look at my email. I opened up a sweet email from one of my favorite bloggers, Tina, at Flamingos and Butterflies. She told me that I have been Boo'd. Well, I love games, so I am joining in the fun! Cynthia at 2nd Grade Pad is hosting a fun linky party. Here's how to play.
Choose a fellow blogger that has MORE followers, another that has about the SAME number of followers, and last, someone that has LESS followers.

Highlight their blogs with links to encourage others to check them out. Don't forget to let your fellow bloogers know that you shared about them.

Lastly, leave them some love by offering them a goody from your store as their "treat."
First, I want to Boo Tina back, so I'm beginning with the blogger with fewer followers than I have. I am sure many of you have not heard of her wonderful blog
Flamingos and Butterflies
. You must check it out!! I love her passion for picture books, and she shares so many wonderful ideas to go with each one! I am shocked that more people are not following her. Please go and check out her inspiring blog!

For the blog with about the same number of follower that I have, I am going to pick Moxie at
Teaching with Moxie
. She has been so super sweet to me this year as I began blogging! She was missing in action for a little while, but I am so glad that she is back with some wonderful ideas. Go check out her bar graph activity!


Last of all, I am choosing Holly at
Fourth Grade Flipper
for the blog with more followers. Holly is such a sweet lady, and I love her blog! She has just completed a fabulous 200 followers giveaway and is well on her way to 300 followers.  If you are not following her blog, you are missing out!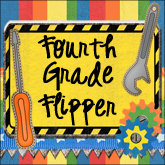 Please go and check out these ladies wonderful blogs! They are great!
Thank you, Cindy, for a wonderful linky! This has been a lot of fun!
God bless!